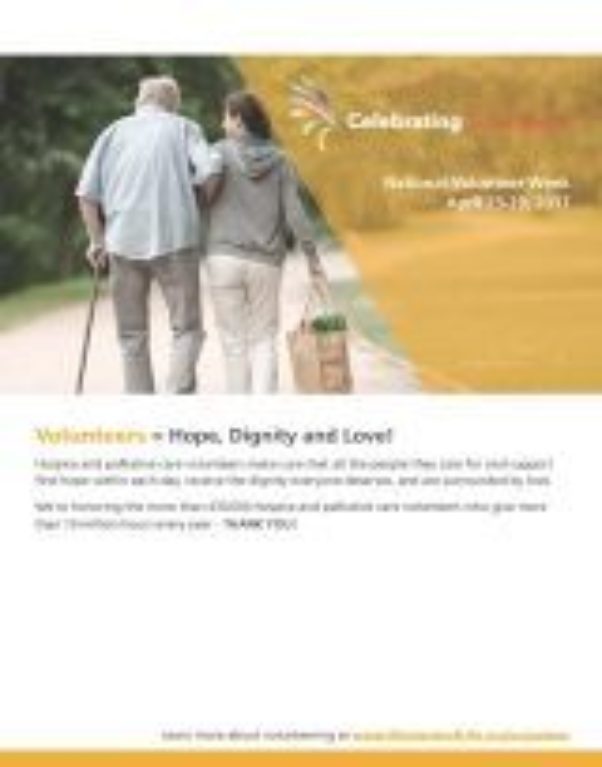 HONORING VOLUNTEERS
Volunteers Bring Many Gifts to Those They Serve
National Volunteer Week, April 23 - 29
April 23 - 29 is a special time in the U.S. that honors the some of the most dedicated, selfless members or our community. It's National Volunteer Week. This is a time to recognize and celebrate the thousands of people who share their time and talents in communities across the country.
Most deserving of our recognition are hospice and palliative care volunteers. These dedicated individuals make sure that the patients and families they support find hope within each day, have their dignity preserved, and are surrounded by love even at the final moments of life.
Last year, an estimated 430,000 hospice volunteers gave more than 19 million hours of service, reports the National Hospice and Palliative Care Organization.
Right here in our community, trained volunteers support people during the journey at life's end and make the mission of Community Nurses possible.
Hospice volunteers spend time at the bedside, help out family caregivers, participate with outreach efforts, assist in the office, provide fundraising support, and much more. They give of themselves to make life better for others.
Even when a person is dying, there can be a lot of living to do and hospice makes it possible by bringing care, compassion, and hope to patients and families facing life-limiting illness. More than 1.6 million Americans received the care of hospice every year.
If you're interested in making a difference in our community by volunteering for hospice, please contact Laurie Golemund or Sue Culver for more information.